Information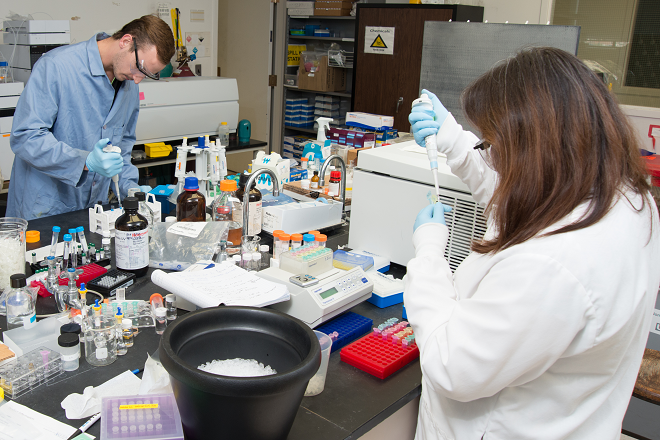 A diverse community of thinkers and leaders, eager to work together and make a difference in the world.
Our 150 graduate students and postdoctoral trainees are not just busy preparing to be leaders and do important work, they're already making a difference. From involvement in student organizations to hands-on research, industry internships, and community outreach, College of Pharmacy graduate students are actively learning, collaborating, and doing important work in the world.
Dean's Suggestion Box
Have a question or suggestion for Dean Schumock? Contact him here.
Grants, Awards, & Fellowships Calendars
News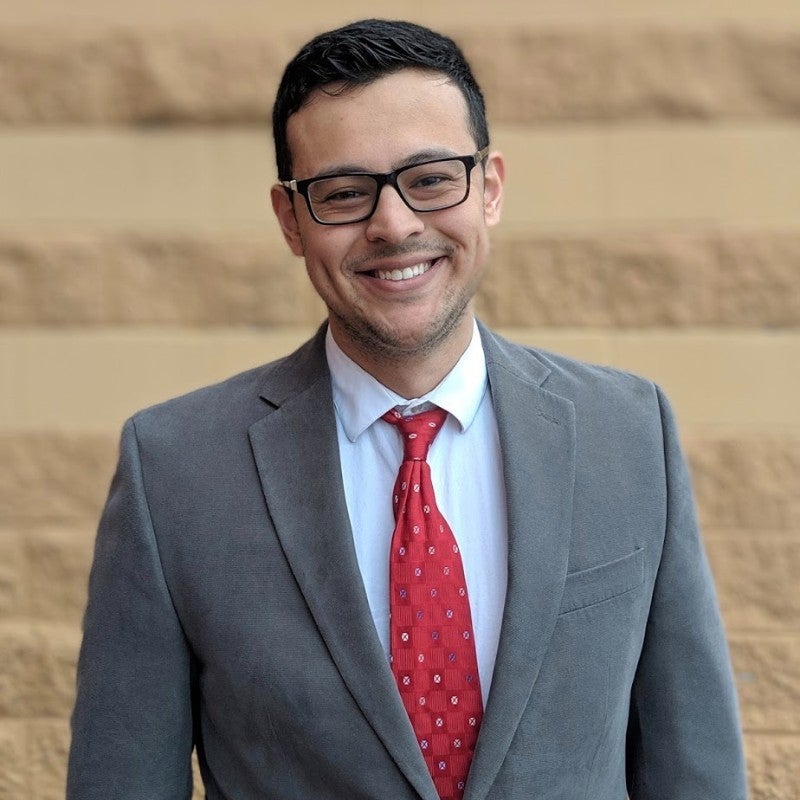 Pharmaceutical Sciences PhD candidate Jose Colina (Burdette lab) won an award for Best Poster in the Gary Kruh Virtual Poster Competition  His winning poster, "Role of Hyperandrogenism in the Development of Fallopian Tube Derived High Grade Serous Ovarian Cancer" was one of two awardees in the Cancer Biology Category. Congratulations Jose on this accomplishment!
News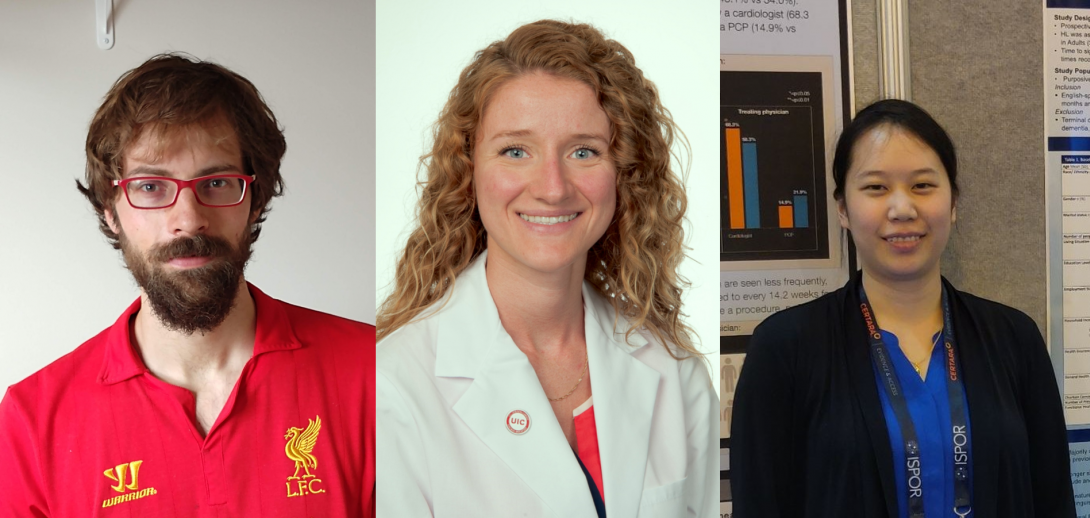 Three COP students won the OTM Award for Research Production & Excellence during the COVID Pandemic.  The UIC Office of Technology Management (OTM) sponsored an award for College of Pharmacy students who have made significant progress in research during the COVID pandemic time. One student from each department was nominated by their advisor to receive this prize.
From left to right, the recipients are:
Kyle Mangano (Mankin/Vazquez-Laslop lab), Department of Pharmaceutical Sciences:
Genome-wide effects of the antimicrobial peptide apidaecin on translation termination; Mechanism of translation inhibition by type II GNAT toxin AtaT2; and Identification of small open reading frames using Ribo-Seq datasets
Alesia Vialichka (Wenzler lab), Department of Pharmacy Practice:
Activity of omadacycline against minocycline-susceptible and -resistant Acinetobacter baumannii; and Exploring the potential activity of novel antibiotic treatment regimens, including aztreonam plus ceftazidime-avibactam, against multidrug-resistant S. maltophilia for Cystic Fibrosis patients
Connie Yan, PharmD (Sharp lab), Department of Pharmacy Systems, Outcomes, & Policy:
Evaluating opioid prescribing by dentists in the United States: A mixed methods approach
News

Three incoming PSCI graduate students have won Graduate College recruitment Fellowships, which carry a stipend as well as a tuition and partial fee waiver. The University Fellowship seeks to recruit outstanding students newly admitted to terminal master's and PhD programs. the Access to Excellence Fellowship aims to increase the number of students from historically underrepresented groups in graduate education who enter careers as researchers and college faculty.
From left to right, the incoming 2020 class fellows are:
Destiny Durante (Penn State University): Access to Excellence Fellowship
Manead Khin (UNC Greensboro): University Fellowship
Rocío Rivera Rodríguez (University of Puerto Rico, Río Piedras Campus): Access to Excellence Fellowship
News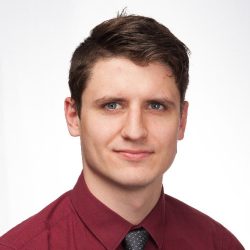 PharmD/PhD student Karol Sokolowski (Gemeinhart lab) has won the Dean's Scholar Fellowship from the UIC Graduate College. The award is intended to provide the most distinguished advanced-level graduate students with a period of time dedicated solely to the completion of their program.
Recipients of the Dean's Scholar Fellowship receive a fellowship stipend for the full twelve-month academic year and a tuition and partial fee waiver from the Graduate College. Congratulations Karol for this honor!
News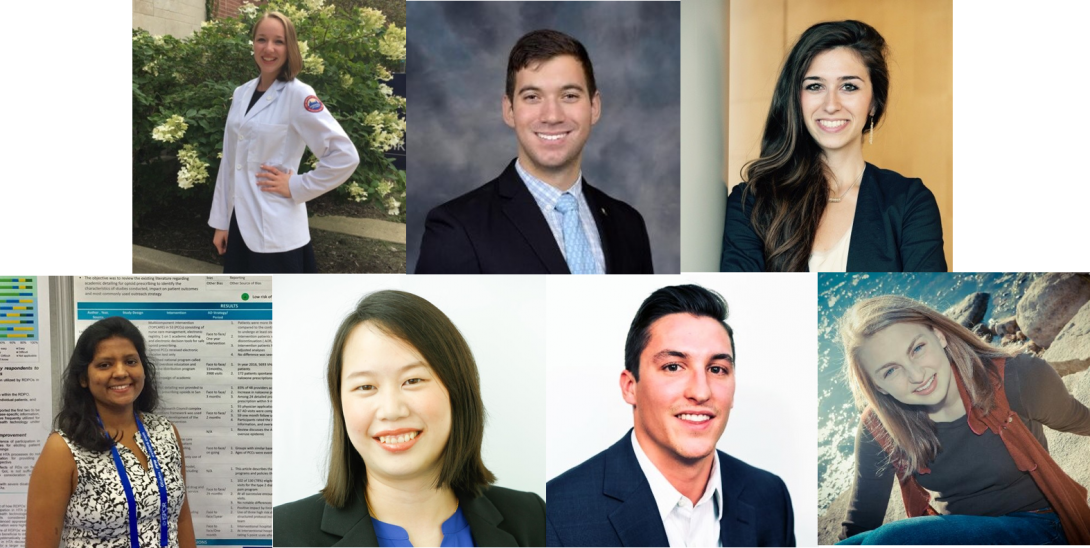 Seven COP graduate students have won Chancellor's Student Service and Leadership Awards (CSSLA). Since 1973, the CSSLA ceremony has recognized outstanding student leaders and student volunteers who, while maintaining high academic achievement, demonstrate a commitment to the UIC community through participation in student organizations and campus activities and throughout the greater Chicagoland area through active service and community engagement.
The College winners are (clockwise from top left):
Tova Bergsten (Burdette lab); Carter McCormick (Qato lab); Nadia Nabulsi (Sharp lab); Mirielle Nauman (Johnson lab); Bob Schultz (Touchette lab); Connie Yan (Sharp lab); Ashwini Zolekar (Nutescu lab)
News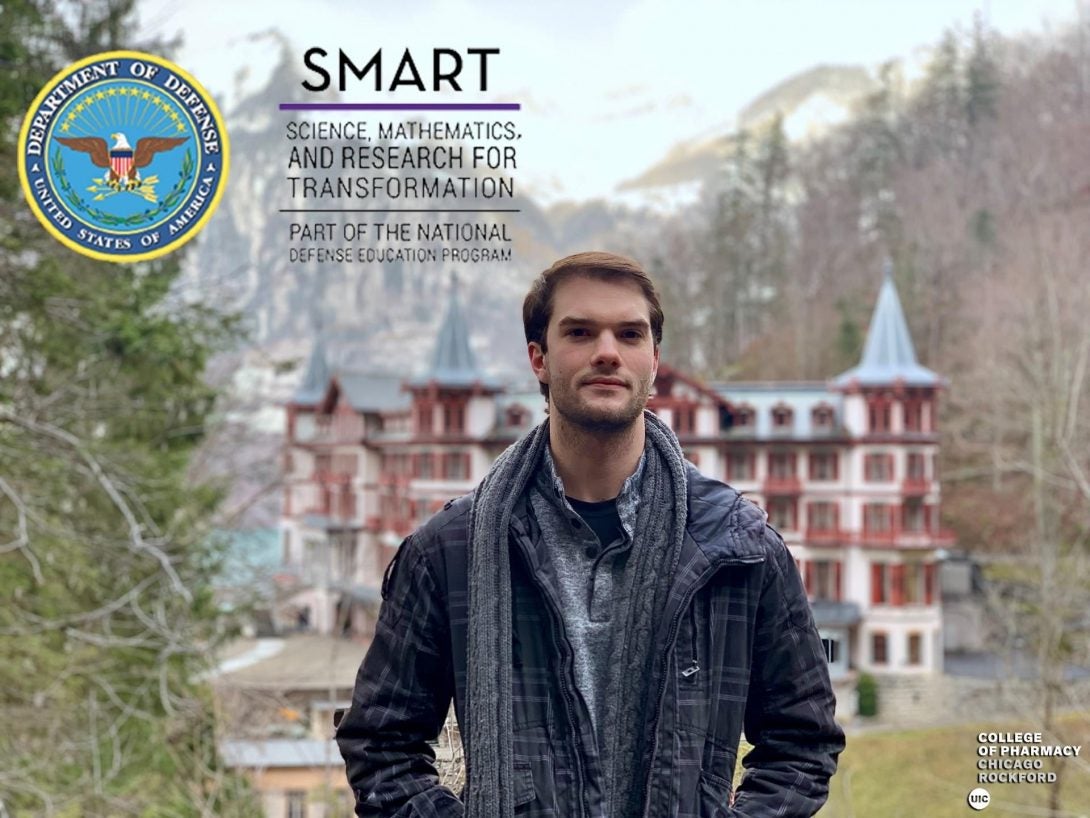 Pharmaceutical Sciences PhD candidate Caleb Anderson (Federle lab) has received the Department of Defense Science, Mathematics and Research for Transformation (SMART) scholarship, as well as sponsorship by the Defense Threat Reduction Agency.
The scholarship pays full tuition and education-related expenses, a stipend, summer research internships at the sponsoring facility, and employment upon degree completion at the Department of Defense sponsoring facility.
Congratulations Caleb on this prestigious scholarship and opportunity!