Travel Awards for PhD Students (TAPS)
In recognition of scholarly activities, such as oral or poster research presentations during Interim and Annual Society Conferences, the Office of the Dean is pleased to announce a competitive award for travel-related expenses. Heading link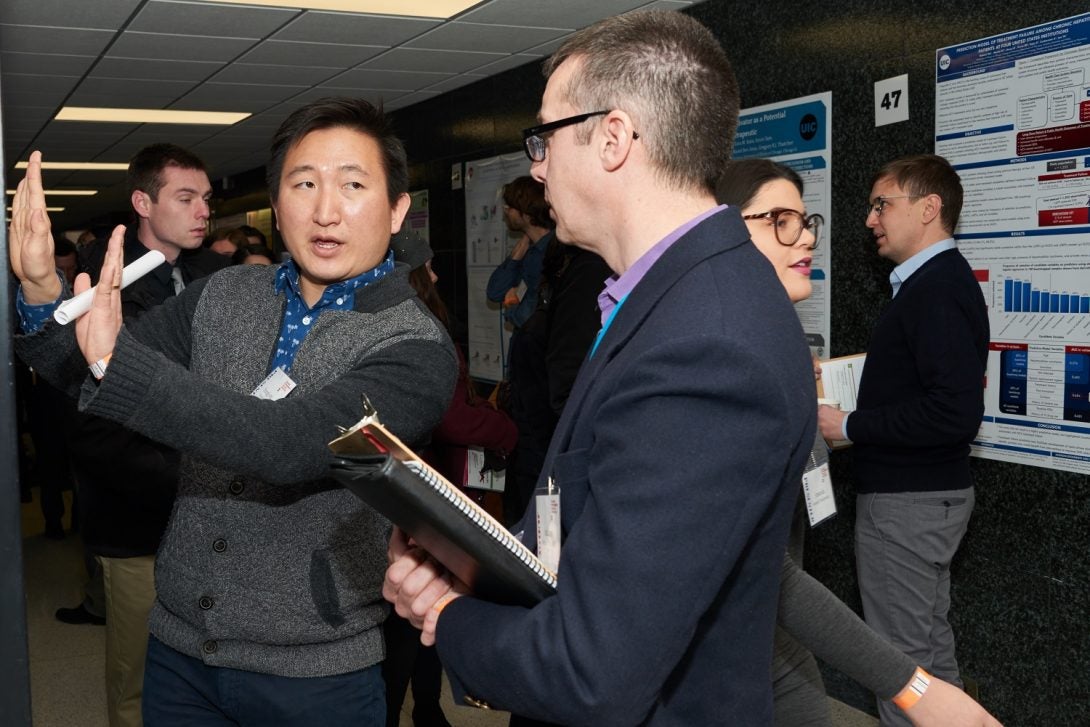 Graduate students in the College of Pharmacy's PhD-granting programs are eligible to receive a travel award if they are presenting a paper or a poster at a conference relevant to their field of study. Travel-related expenses may include registration fees, travel, and/or hotel accommodation.
If you have applied to a conference to present a talk or poster by the deadline, you are eligible to apply for the TAPS program unless you have already received a TAPS award in the last two years.  Exact financial support will depend on the travel-related expenses you incur and the number of applicants. Please note, the money you receive is considered taxable income.
Pharmaceutical Science Graduate students may use this form to apply for the UIC Distinguished Professor William T. Beck and Doreine Carson Beck Endowed Scholars Fund for travel ($1000). Apply by the February 1 deadline for a conference occurring by August to be eligible. You may use the same form as the TAPS award and indicate your interest in this award there.
Applications for the August 1, 2023 deadline are currently being accepted. The UIC Distinguished Professor William T. Beck and Doreine Carson Beck Endowed Scholars Fund for travel is NOT available for this deadline.
Check out specific information on how to apply below.
1
Application form
Proof of abstract acceptance (Note: if you have not received the acceptance for the conference at the time of your TAPS application that's not a problem. ​​You just need to submit your​​​​ proof acceptance ​​whenever you receive it to lmcquade@uic.edu​​)​​
A copy of your unofficial transcript​
A pers​​onal statement (1 page max, outlining the importance of your attendance at this conference, relevance to your studies, future career, etc.)
2
Travel award winners are requested to submit the following to the Assistant Dean of Advancement following their conference attendance*:
​A photo of them at the conference;
A quote about how the conference experience was beneficial to their studies and/or future career;
A thank you note to the appropriate donor, as identified by the Office of Advancement and Alumni Affairs.
*Submission of the above photo/quote/thank you serves as authorization for staff members of the University of Illinois at Chicago and/or authorized representatives of the University of Illinois and/or authorized representatives of magazines, newspapers, periodicals, radio, television and other media as well as public​​​ and private agencies to use and publish such photograph(s) together with such identification as may be reasonably necessary and important.
3
Cycle 1:  due February 1
Cycle 2: due August 1